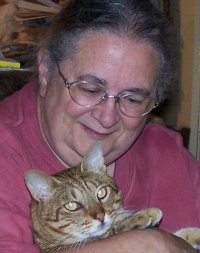 Lyn McConchie is an author from New Zealand, who writes in a range of genres: science fiction, fantasy, horror, humour, mystery, and westerns.
Lyn was crippled in an accident in 1977 and forced to take medical retirement in 1988. She now owns and runs a small farm in New Zealand, where she breeds coloured sheep and tends her free range geese and hens.
Born April 3rd 1946, Lyn is a long-time member of NZ SF fandom. She became a professional writer in 1990 with sales in that year to USA markets MZB's Fantasy Magazine and Strange Plasma. Since then she has had a vast number of short stories published in nine countries and in four languages, in print and electronic magazines; and radio broadcast. 36 books have appeared, others have been sold; and several books have been translated and republished in Russian and Polish while one of her stories got as far as appearing (illegally) in Catalonian Spanish.
Lyn continues to write and her credits include poetry and articles published in several countries, in addition to the books and short stories.
Lyn is a cat lover and the associate of Thunder, an 18lb ocicat who shares her home and life along with her personal library of some 7,500 volumes.
An interview with Lyn McConchie, by Tim Jones: Books in the Trees
Awards
In July 2013 Lyn won the Sir Julius Vogel award for Best SF/F novel published in 2012, for Queen of Iron Years, co-authored by Sharman Horwood. Previously, Lyn had won the Vogel for Best SF/F novel four times: for The Questing Road in 2011, for Beast Master's Ark in 2002, Beast Master's Circus in 2004, and for The Duke's Ballad in 2005. In 2011 she also won the Vogel for Best Young Adult Novel for Summer of Dreaming.
In December 2011 Lyn won both the Certificate of Excellence (all three judges scored the item at 90%+) and also the Muse Medallion for her short story "Opener of Doors" The awards were presented by the (International) Cat Writer's Association.
In 1996, 1997, 1998, 1999, and 2002, she received the (International) Cat Writers Award, the Muse Medallion, for her stories "One Righteous One in the City", "Deathsong", "Tiger Dreaming", "A Tale of Two Kitties", "Chasing China Cats" respectively.
"Deathsong" also won the Jonny Cat Award from the Exel Mineral Company in America.
In 1992 Lyn received the Australian SF Foundation's award for Best Short Fiction for her unpublished ghost tale, "The Third Storey".
Some of Lyn's recent books